Send 1098 Forms to the IRS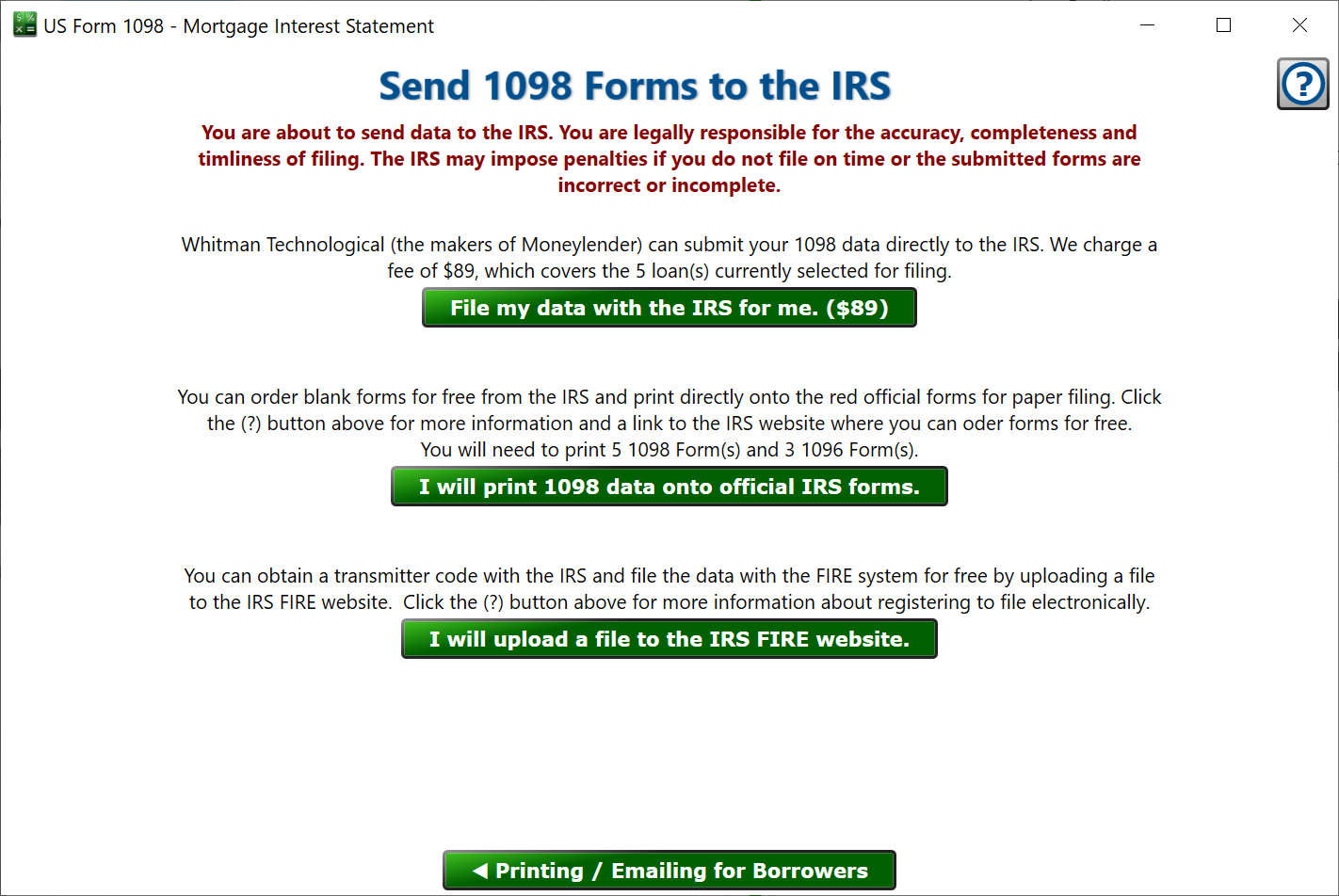 You can get here by clicking Regional > United States > Form 1098 – Mortgage Interest Statement from the main menu.
You have three options for filing with the IRS: paper filing, electronic filing yourself, have us complete your electronic filing. The IRS recommends electronic filing whenever possible, and if you have many loans you may be required to file electronically.
Paper filing must be done on official IRS scannable forms. You can order those forms from the IRS for free here: https://www.irs.gov/businesses/online-ordering-for-information-returns-and-employer-returns. You'll need a 1096 cover letter for each lender, and a 1098 form for each loan. If a borrower has multiple loans, you will report a separate 1098 for each loan. Moneylender has templates to print the data onto the official 1098 forms.
Electronic filing is done through the IRS FIRE website (https://fire.irs.gov). FIRE is a system that lets you upload a specially formatted file containing the details of your 1098 returns to the IRS. To submit tax data, you must register with the IRS and receive a transmitter code in the mail (https://www.irs.gov/taxtopics/tc802). Registration is free, and a transmitter code is usually issued within six weeks.
Whitman Technological can transmit your FIRE file on your behalf. We charge a fixed fee, which covers a single FIRE submission. A submission can and should contain all the forms to be filed in your portfolio. If you have your loans in separate portfolios and you want us to file your returns for you, you will need to pay a separate fee with the file generated by each portfolio.
Please be aware that you are the taxpayer and still responsible to the accurate, complete and timely filing of all required documents. Whitman Technological is in no way liable for your filings with the IRS. Any penalties incurred because of late or misfiled returns are incurred by the filer/taxpayer.
File my data with the IRS for me – click this to pay by credit card. Your data will be securely transmitted to Whitman Technological for filing with the IRS upon successful payment.
I will print 1098 data onto official IRS forms – click to print your 1098 returns. Moneylender will allow you to print each lender's 1096 cover letter and batch of 1098s in groups, making it easy to print a collated set of returns for paper filing.
I will upload a file to the IRS FIRE website – click to enter your "Transmitter Information" for the header of the FIRE file and then to export the file. Once exported, you can login to the fire website to upload your file.
See also:
Preparation
Borrower Selection
Correction
Printing for Borrowers
IRS Filing Options
We eFile Your Returns
You eFile Your Returns
You Print Your Returns