Create Metro2 Report File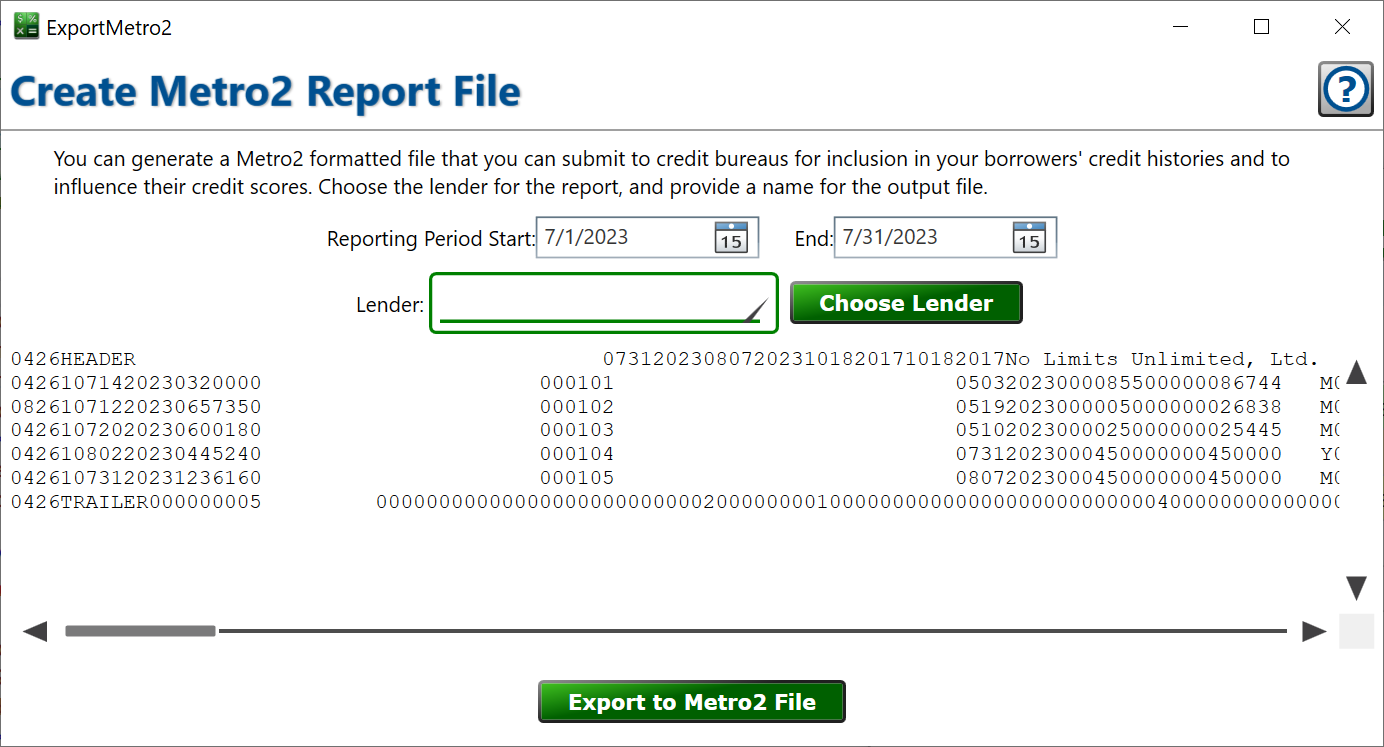 Get here by clicking Portfolio > Create Metro2 Report
Make sure you have Metro2 reporting enabled on the Portfolio > Portfolio Settings > General tab. When this is enabled, all the additional fields needed for Metro2 reporting will be visible throughout the program.
By default, Moneylender will set the Reporting period to the previous calendar month. Reporting in conjunction with calendar months will simplify your management of Metro2 submission to credit bureaus. If you have a need to report for a different period, you can manually adjust the start and end dates for the report period. Be careful when modifying the default report cycle dates because the selected dates will have a definite numerical impact on the values reported.
You need a data furnisher account with a credit bureau to submit credit report data. Visit the website of the bureau and look for the link to become a data furnisher / register as a business. Usually, you'll need to email or submit a form to begin the process of setting up an account.
Once you are registered to submit credit data, you can use Moneylender to generate the Metro2 files the bureaus will use to update your borrowers' credit history and score.
Alternatively, you might look for a credit reporting data aggregator service – these are businesses that will accept your Metro2 files and submit them to credit bureaus on your behalf. It can simplify the process of furnishing data because these aggregators will usually submit to all credit bureaus for you. If you submit the data yourself, you'll have to submit it to each of the bureaus where you are registered individually. Even if you use a data aggregator, your report data will still need to meet all the quality requirements of the bureaus.
When you first set up, you'll usually submit a test file. This file will be scanned for missing or contradictory information. You'll likely get a list of things that will need to be fixed – things like missing statuses, incorrect dates, or other things. Usually, you just need to edit the Metro2 settings on the affected loan, borrower, or lender to correct the problem in the report file.
Choose Lender to select the lender that will be furnishing data. Once selected, the Metro2 data is compiled from the lender's loans. The raw Metro2 report is displayed for your reference.
Export to Metro2 File to save the raw report as a .m2 file, ready for submission.
Please note! The Metro2 format is not encrypted. Never transmit a Metro2 report over an unencrypted connection, including email. Make sure you always upload through a secure portal on a website or over a secure FTP connection.