AutoPay Portfolio Settings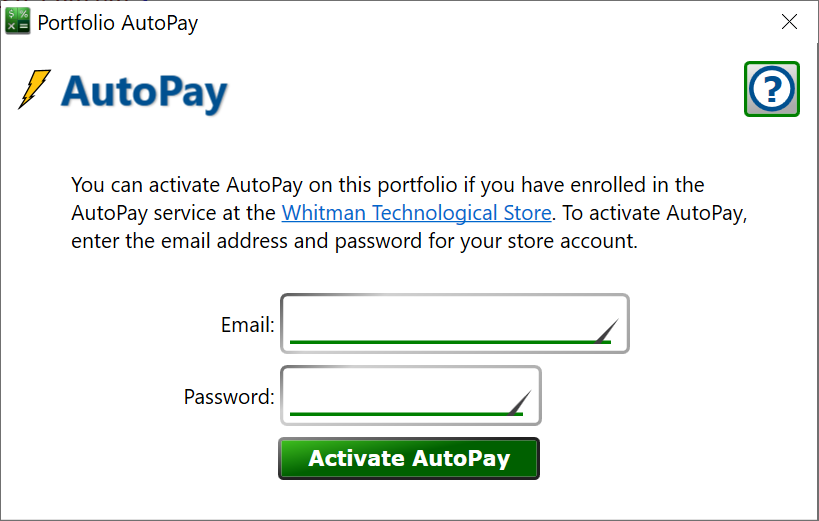 Get here by clicking Portfolio > AutoPay
This is how you link your portfolio file to your AutoPay account on the Whitman Technological store. Enter the email and password to your store account and Moneylender will register your portfolio with the AutoPay service.
Once registered, you'll be able to click the AutoPay button on the Payments tab to enroll loans in AutoPay and schedule or cancel one-time and recurring payments from your borrowers.
Activate AutoPay - once linked to the store and the AutoPay server, Moneylender will update the server anytime you edit a borrower, lender or loan connected to an AutoPay enabled account. You cannot delete a loan that has been enrolled in AutoPay, instead you will be asked if you want to mark it as a declined application (functionally the same as deleting the loan).
Additionally, when you click Portfolio > AutoPay, the synchronization date for the portfolio is reset to 01/01/0001. This will cause Moneylender to ask the AutoPay server for a list of every payment ever processed from AutoPay. If payments are missing (this hasn't occurred since the very earliest days of the AutoPay system) resetting the sync date will cause the payments to redownload from the AutoPay service. In AutoPay today, if recent payments haven't downloaded, you might just need to close and reopen Moneylender to reset the AutoPay synchronization routine. If there was a network error during an earlier sync, it might stop AutoPay from continuing to synchronize until Moneylender restarts.