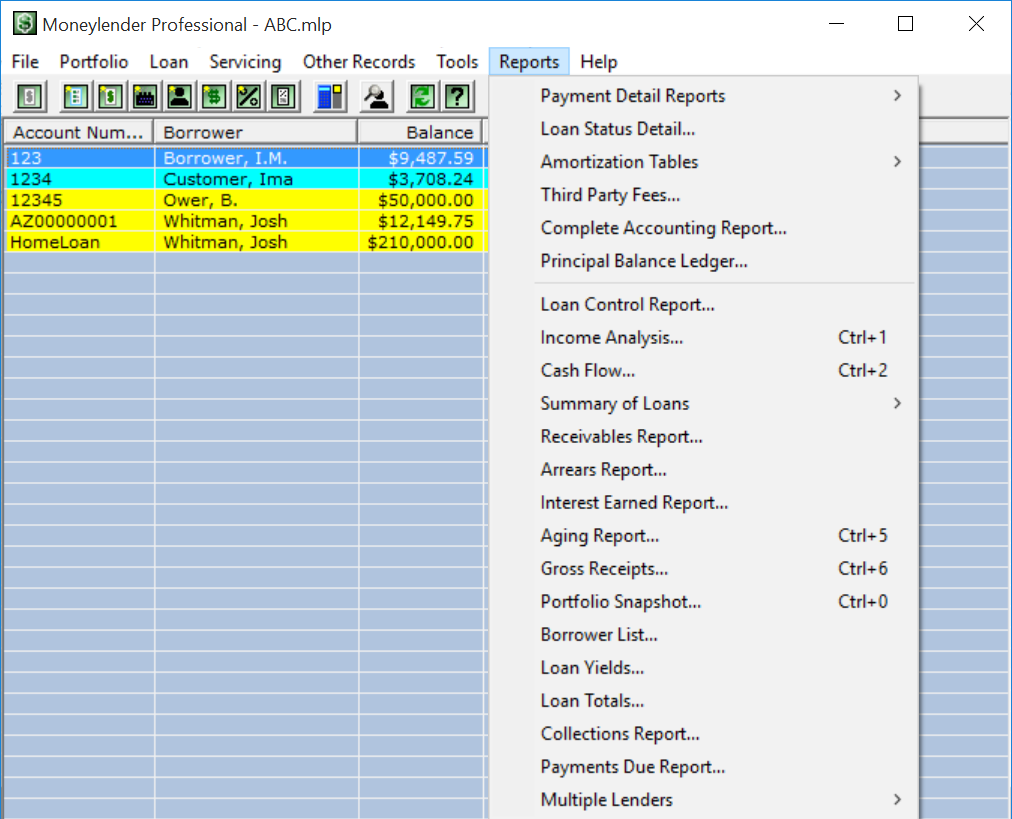 Available from the Main Menu, the Reports menu lets you print informational reports based on a single loan or on an entire portfolio. To print a report on a single loan, you must select the loan in the list of loans first.

The main difference between a report and a statement is that statements display only the current status of a loan, while reports generate numbers computed from a broad arrangement of records summarized and displayed in more complex ways.

This distinction is the reason reports are not customizable, but statements are. Because reports read a large number of records from a portfolio — especially the entire portfolio reports — it takes some time to generate the report, especially in a network environment.



Single Loan Reports



contains four sub-menu items.



generates a report showing the details of each payment applied to a specific loan.
payment's Note field, such as check number.
is similar to the Loan Payment Detail, but the font is smaller. It also includes a column that shows the text from each
is similar to Payment Deal with Notes, except interest rates are not included.
is similar to Payment Deal without Rates but includes fees.
shows the status of a loan from due date to due date and the total amount of payments received during that period.





The menu contains two sub-menu items.





prints the projected amortization table from open date to maturity, assuming only the regular payment is received each month. If the regular payment or interest rate varies over the life of the loan, it is reflected in the amortization schedule.

prints the same information as the Amortizaion Schedule, but, in addition, each column is totaled.





The records payments for any additional parties — other than the principals— involved in a loan.

The displays payments, finance charges, credits, balance, and amounts during a specified time period.

The displays debits, credits, and outstanding principal during a specified time period.




Entire Portfolio Reports



Displays the net portfolio balance, including breakdowns such as Paid Out, Interest, Special Charges, Payments, and Other Credits.

shows the details of money received monthly over a selected date span. It also shows a breakdown of principal received and interest received.

shows a monthly comparison of principal amount of new loans with payments received for a selected date span.

shows how much money was received on each loan during a specific period. The report is separated by lender if there are multiple lenders in the portfolio.

shows borrower names, outstanding principal, and payments due for each lending company.

shows andy borrowers with payments outstanding along with the balance, fees, interest, and principal.

shows total, earned, and unearned interest during a specific time period for each lending company.

show amount due and balance over a select period of time.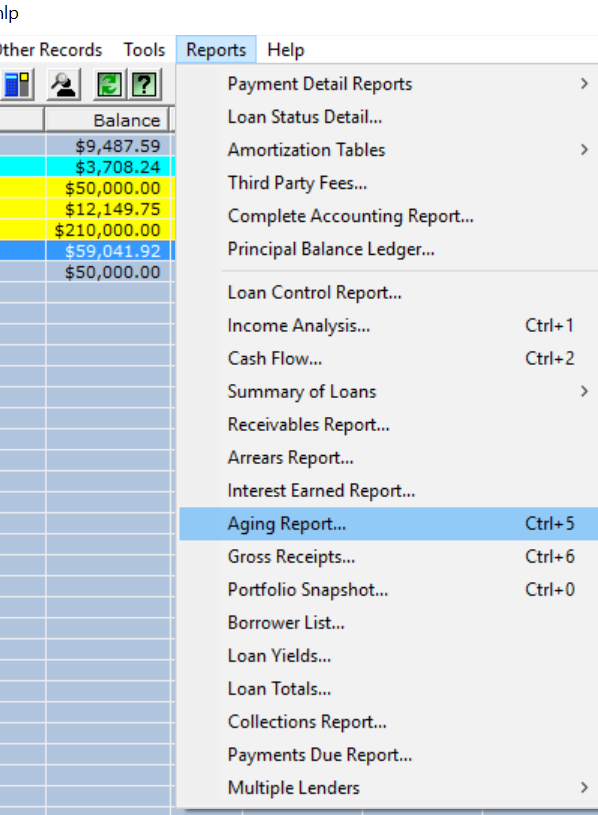 shows the payment amount and date receiveved for each account.

provides an overview of all accounts within a portfolio, including important dates, balance, and amount due.

shows contact and other important information for each borrower.

shows average daily balance and interest for each account.

shows basic information about each account, including total due, interest, and fees.

shows amount due, including late fees and past due amounts.

show payment amount and due date for each account.

The menu contains five sub-menu items.
Income Analysis: tracks principal, interest, and fees
Cash Flow: compares amount paid out to amount received
Summary of Loans: provides a full rundown of all loans
Loan Totals: breaks up each loan, including amount due, principal, interest, fees, and balance
Investment Analysis: compares investments to profits