| | |
| --- | --- |
| | The Regular Payment Record |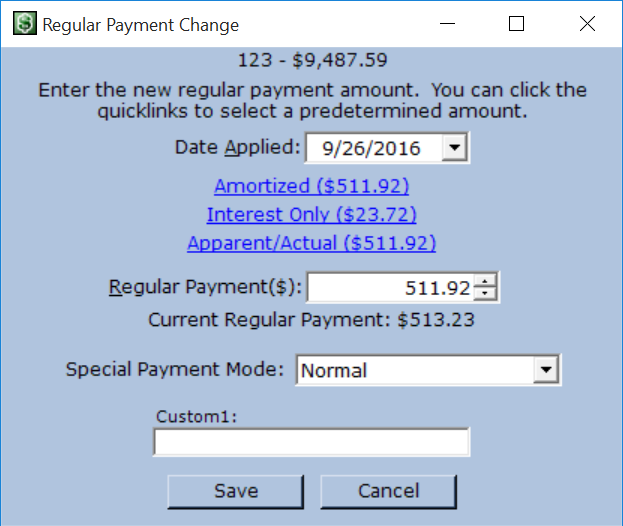 Regular Payment records allow you to change the regular payment of a loan during the course of loan servicing. The initial regular payment amount set on a loan is contained in the loan record itself and entered through the Loan Wizard.

Any time between the First Payment Date and the Maturation Date of a loan, you can adjust the regular payment amount (except with pre-computed Interest Up Front loans).

To create a new regular payment record, select a loan from the loan record. Then:
Click Loan menu OR
from the
Right-click your loan and click
from the pop-up menu.
Enter the new amount of the payment and the date when this amount goes into effect.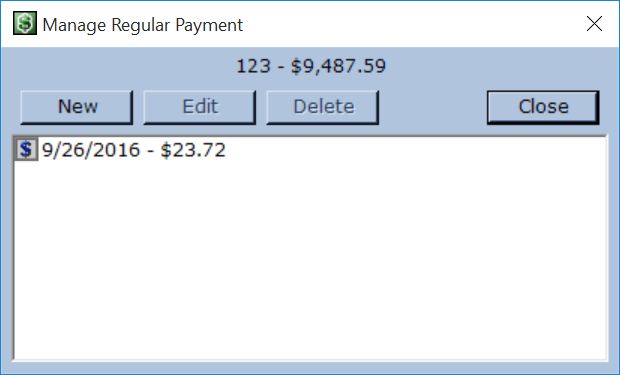 To view, edit, or delete the regular payment records associated with a specific loan:
Select a loan by clicking it in the list of loans.
Click Loan menu. This opens the Manage Regular Payment dialog.
from the
Select a record from the list to edit or delete.
©2006 TrailsWeb LLC - All Rights Reserved