| | |
| --- | --- |
| | The Interest Rate Record |
If the interest rate on your loan changes, record this change by creating an Interest Rate (or simply Rate) record.


To record a change in the interest rate, select the loan in the list of loans. Then either:
Click Loan menu
from the
Click the New Rate () button on the toolbar, OR
Right-click the loan and select
from the pop-up menu.
Enter the interest rate as a percentage, such as 14.999, not a decimal multiple, such as .14999.

Select the date when the new interest rate applies to the loan.

To view, edit, or delete the rate records that apply to a specific loan, click from the Loan menu. This opens the Manage Rates dialog, displaying the interest rate changes made to the loan. To edit or delete a rate record, select it in the list and then click the corresponding button.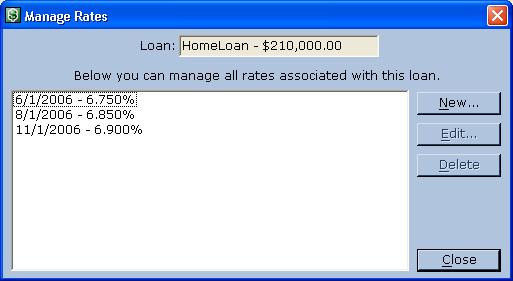 ©2006 TrailsWeb LLC - All Rights Reserved