| | |
| --- | --- |
| | Network Users |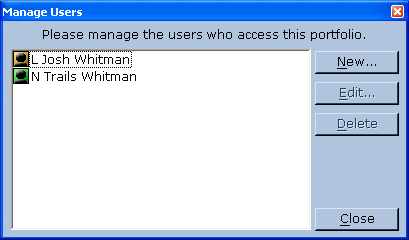 To manage the users allowed to access a portfolio through a network, click from the Portfolio Menu. This opens the Manage Users dialog to create, edit, and delete users.

There are two ways to create a new user: click New in the dialog, or click a user from the list on the left side of the dialog. Then:
Click Edit to open the Edit User dialog (pictured below).
Enter the user's Full Name in the User Name field.
Enter a shorter login ID in the LoginID field. The LoginID and Password must be entered by the user when connecting to the portfolio. If a user forgets the password, open the account. Click the Show button next to the password to display it as regular text.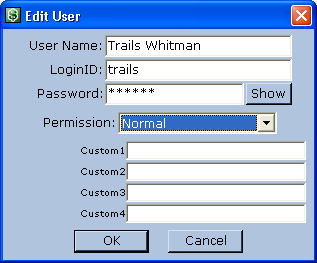 Select the appropriate permission level from the drop-down. If you have additional information you'd like to store about users, use the Custom fields.


©2006 TrailsWeb LLC - All Rights Reserved