| | |
| --- | --- |
| | Main Window |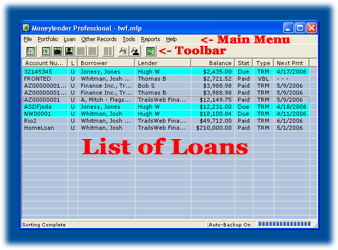 The main interface for Moneylender Professional 2.0 displays a list of the loans in your portfolio and allows you to manage, service, and report on those loans.

There are three major components to the main window: The Main Menu, Toolbar, and List of Loans.

The Main Menu provides access to all of Moneylender's features. See the help topic Main Menu for details of every menu option.

The Toolbar provides quick access for the most common tasks and additional support for working with the list of loans. See the help topic Toolbar for more about each button and what it does.

The list of loans is key to managing your loans. This list is the starting point for all loan servicing functions, from recording payments to printing statements and vouchers. For details on this component, see the List of Loans help topic.


©2006 TrailsWeb LLC - All Rights Reserved