| | |
| --- | --- |
| | File Menu |
Available from the Main Menu, the File menu allows you to create, open, and change portfolios, connect to networked portfolios, manage Moneylender's application-based settings, and exit the program.

- Allows you to select a folder and file name for a new portfolio file. When creating a new portfolio, Moneylender adds the default templates and opens the Portfolio Settings dialog.

- Opens a dialog to browse for portfolio (*.mlp) files on your computer.

- Allows you to enter the IP address, port, and login credentials for a network-accessible portfolio. The IP and port are readily available from the system tray icon in the taskbar of the host computer.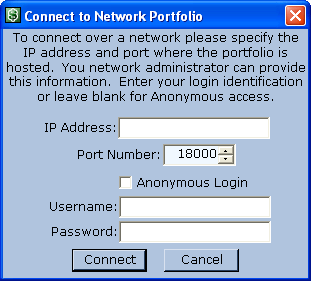 - If you are running a local file portfolio, you can use this command to save a copy of the portfolio to another file on your computer.

- Access this with the Moneylender Settings dialog on the File menu. Designate a folder to save a backup copy of a portfolio using a set schedule. For greatest security, the auto-backup folder should be on a separate drive. To enable backup:
Check the "Enable Backup" box.
Select an auto-backup schedule from five mintues to six hours.
Indicate the number of copies to save.
Choose a backup location.
Note that if you disengage your auto-backup folder (for instance, removing a thumb drive), Moneylender automatically disables auto-backup the next time it tries to carry out the function.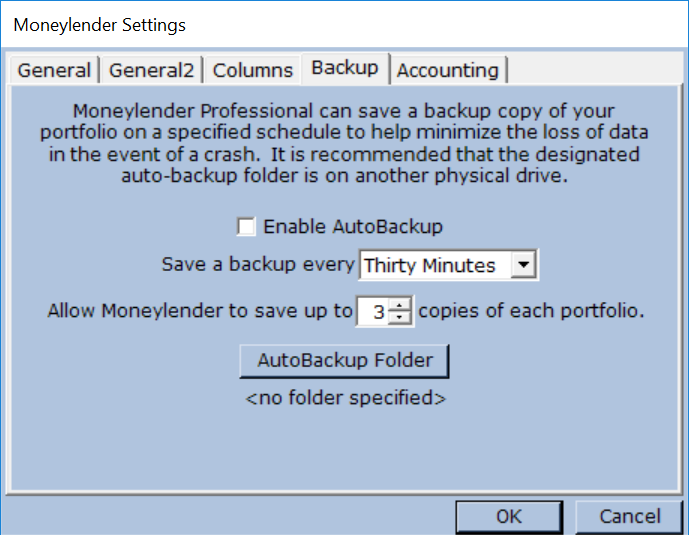 - Closes any open file or network portfolio, disconnecting any currently connected users.

- Enter a password needed to open a file portfolio. If the password is not entered exactly, the portfolio is completely indecipherable.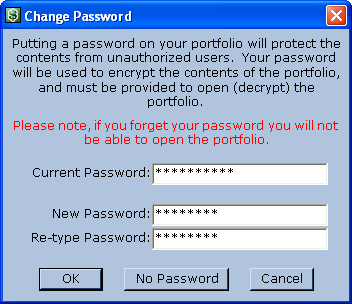 - Lets you browse to an MLP1 portfolio file. Once selected, MLP2 opens this file and import all your MLP1 data into your new MLP2 portfolio.
- Lets you import payment information from Excel.
- Lets you import borrower information from Excel.

- Lets you export payment information into a CSV file such as Excel.

- Opens the Moneylender Settings dialog, allowing control over program-related functions, such as auto-backups and automatic updates from the internet.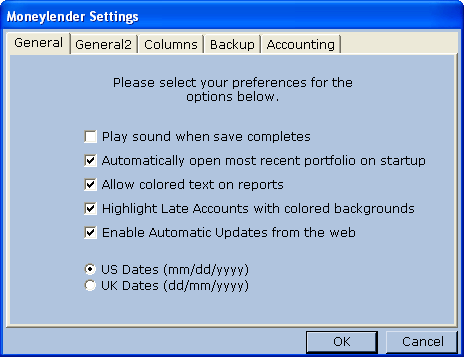 - Closes the current portfolio and exits the program.

©2006 TrailsWeb LLC - All Rights Reserved