| | |
| --- | --- |
| | Custom Values and the Loan Control Report |
As you service your loans, you will need to supply a handful of information in the custom fields of various records for the Loan Control Report to function properly. Select Portfolio > Porfoilio Settings > Control Report from the Main Menu.
For the purpose of this User Guide, we are using the settings from this screenshot: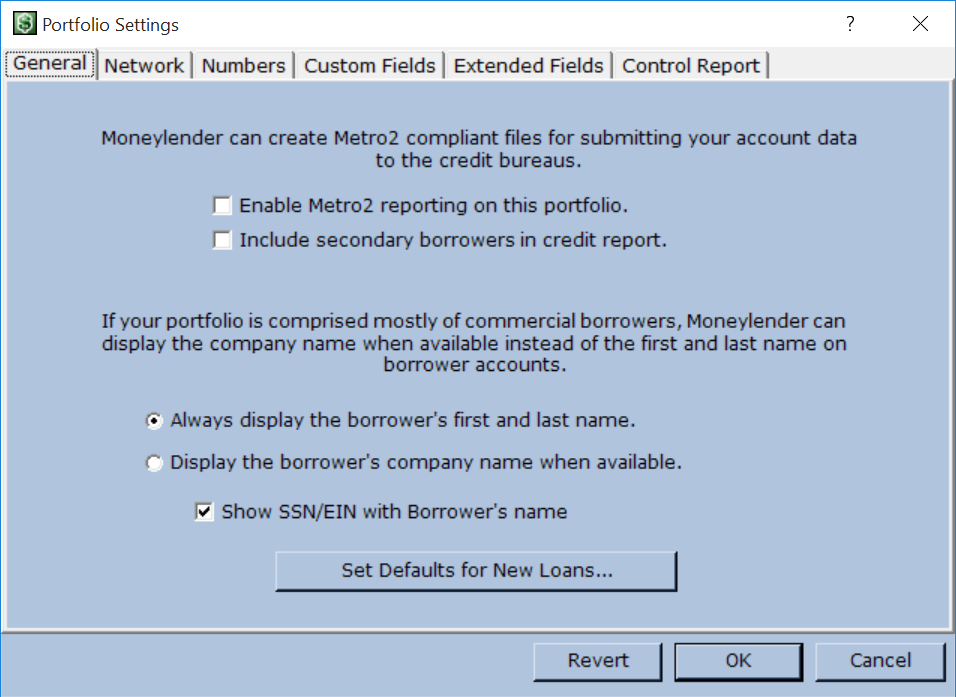 These settings have the following effects on the Loan Control Report:
Principal Adjustments with the Source/Type field set to "orig" are shown in the Origination Fees list of the Loan Control Report. These adjustments are itemized by the values in the Itemization field.
Regular Payments, Interest Only Payments, Principal Payments, and Interest Strict Payments where Source/Type is "settl" are listed as Settlement in the End of Loan section of the control report.
Principal Adjustments and Interest Adjustments (both positive and negative) with a Source/Type of "settl" are tallied on the Loan Control Report's Settlement Credit number. MLP has a special behavior for this when the control report is enabled.
Payments with a Source/Type of "refi" are grouped into the Loan Control Report's Refinance line in the End of Loan section.
Payments that do not fall into one of the above categories are subtotaled by the value of the Itemization field in the Payments section of the report.
All third party fees in the portfolio are first separated by the FeeGroup custom value. Fees within each group are separated by the Itemization field. Then a total for all fees in that group is listed.
If you change the interest rate on a loan, setting the IsDefault field of the Rate record to "default" causes all interest based on that rate record to be listed on the Default Interest line of the Loan Control Report. All other interest is on the Normal Interest line.
Entering a numeric value in the Disbursement custom field of a loan moves that amount from the Initial Advance line to the Disbursement line. The total for the Paid Out section of the report remains the same.
©2006 TrailsWeb LLC - All Rights Reserved