| | |
| --- | --- |
| | Quick Notes |

is found under The Servicing menu on the Main Menu. Quick Notes contains two submenu items: New Quick Note and Manage Records.







Selecting opens the Quick Note Dialog. The Quick Note dialog lets you create new Quick Notes. The loan that is currently selected in the main window automatically appears in the Loan field of the Quick Notes dialog.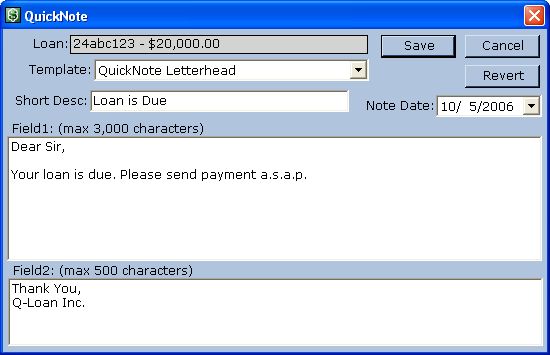 From the Quick Note Template drop down box:
Select the default template, which is Quick Note Letterhead.
Enter a short description for the Quick Note.
Select a date in the Note Date drop down calender.
Enter the data that you want in Field 1 and Field 2.
Click the Save button to save the Quick Note.
Clicking the Revert button in the Quick Note Dialog deletes anything that has not been saved. Clicking Cancel closes the Quick Note Dialog.

You can access Quick Notes that have been saved through the Quick Notes Manager Dialog.









Selecting opens the Quick Notes Manager Dialog.

Select a Quick Note that has previously been saved from within the Manage Quick Notes dialog. Click the Edit button to open and edit.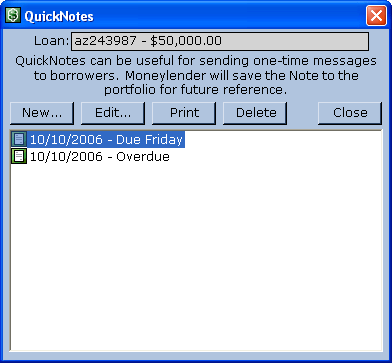 The Quick Note is now open for editing.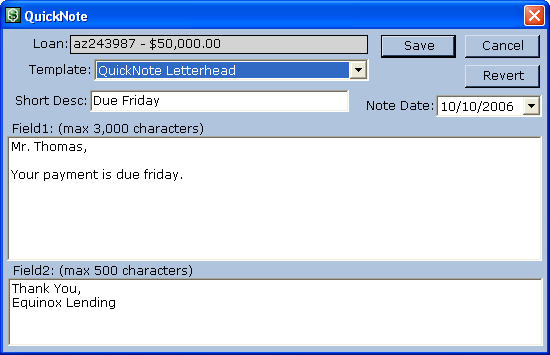 To print a Quick Note, select the saved file in the Quick Note Manager dialog and click the Print button.

The Delete button deletes a selected Quick Note. The Close button closes the Quick Notes Manager.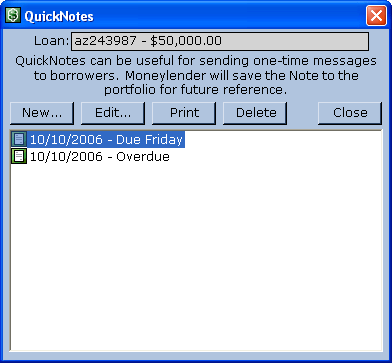 Clicking New in the Quick Notes Manager Dialog opens the Quick Note Dialog, which allows you to create a new Quick Note for the currently selected loan.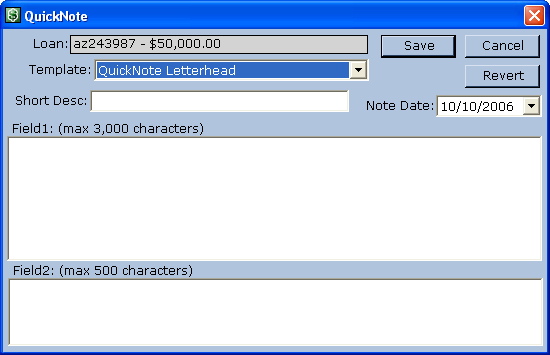 ©2006 TrailsWeb LLC - All Rights Reserved