| | |
| --- | --- |
| | Help Menu |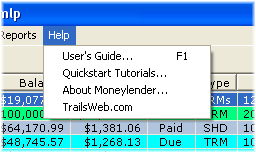 Available from the Main Menu, the Help menu offers several forms of assistance.

opens this documentation so you can get information, explanations, and instructions.

opens the User's Guide to the Quickstart Tutorial Overview page.

displays the current software version, as well as the local and activation keys if the program has a license installed on your computer. The software version is used by Moneylender for automatic updates. Moneylender also has a product version (2.0000) which corresponds to the purchasing and licensing system.

is the website for Moneylender Professional's author. We built and continue to improve the program and welcome any suggestions or comments about the software. Also, we can help if you are having trouble using the program or exerience a bug, crash, or error.


©2006 TrailsWeb LLC - All Rights Reserved