| | |
| --- | --- |
| | Template Definition Files |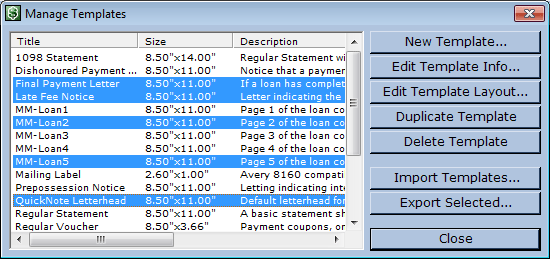 Moneylender Professional supports sharing template data independent from loan records in a portfolio file. Share templates by exporting them to a Template Definition File (*.mlt).

To create a Template Definition File, click . Select the templates you wish to export/share. Hold Shift or Control while clicking the templates to select multiples. Then click "Export Selected," and specify the name and location for the template file. These files are encrypted when created, so nothing shows up as plain text within the file. You can email the Template Definition Files or put them on CD or USB drive to copy them to another computer.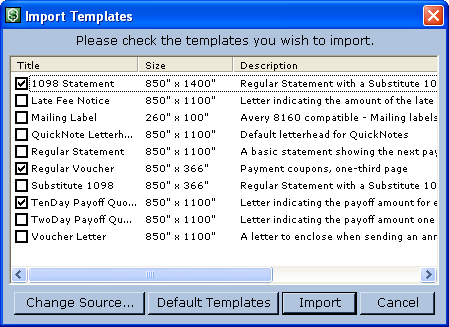 Once you have the template definition file on your computer, import any or all of the templates contained in that file into your portfolio(s). Click , and click the "Import Templates" button. This opens the Import Templates dialog.

Click "Change Source" to browse, and select your template definition file. From the list of the templates in the file, check any templates you wish to import. Click "Import" to copy the templates into your portfolio.

The Import Templates dialog also lets you re-import the default templates that come with Moneylender Professional. Click Default Templates to display the default templates. Check any templates you wish to copy to your portfolio.


©2006 TrailsWeb LLC - All Rights Reserved